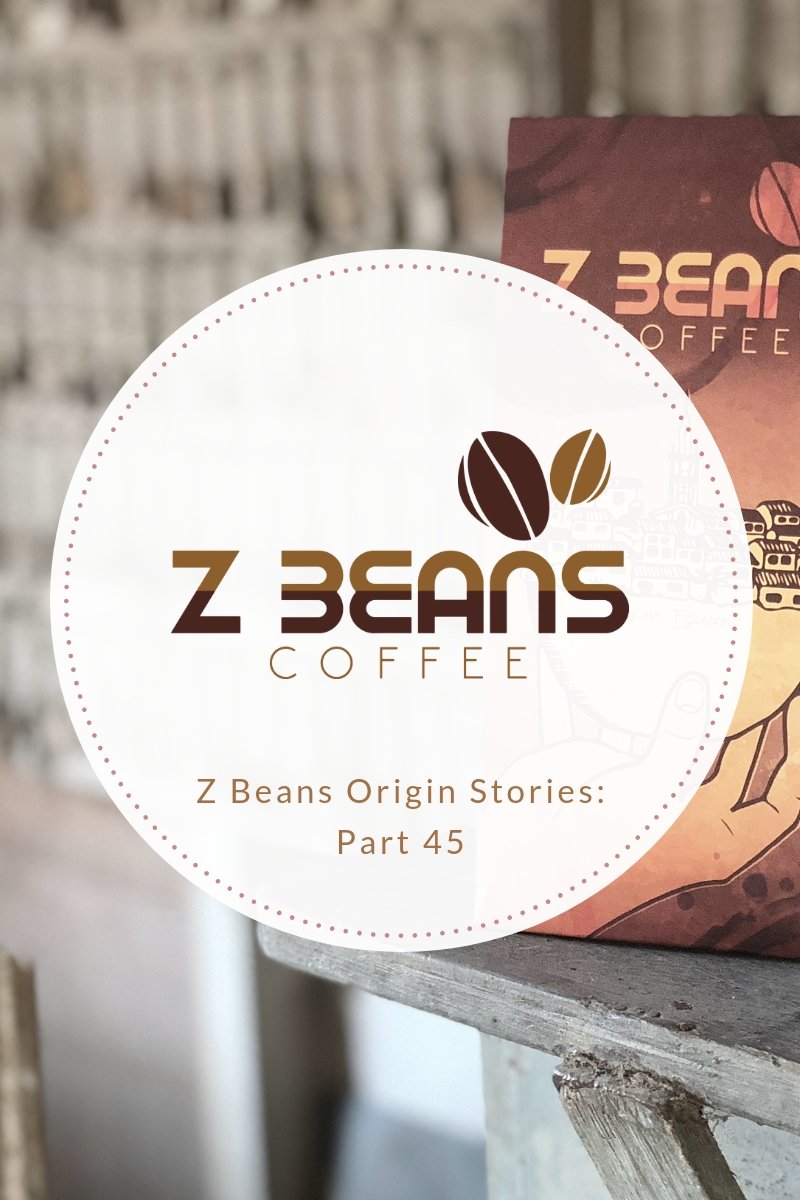 The Story of Angel Arturo Penarreta Romero
In May of 2016, a group of students from Mercer University came to perform different activities in the area, one of which concerned coffee. It was there I met Shane Buerster, an economics student, who already had a basic understanding of Spanish and an interest in the production of coffee. Shane and I formed a great friendship, as he was always with me, asking me questions about coffee... 
The Story of Angel Arturo Penarreta Romero
I am grateful for Arturo's friendship. It's because of his trust and loyalty that we were able to import our first 65 pounds - and it's because of his trust and loyalty that we have been able to import 14,000. Arturo believed in me before I even believed in myself - he challenged me to learn import laws - to learn about the trade of coffee - to improve my Spanish. 
Our relationship hasn't always been smooth sailing, we have had our tough times but Lord knows, we have sure had the fun ones. So, in this blog, I want you to learn about Arturo - from Arturo himself. Here, he talks about his early childhood and his adulthood, highlighting his major milestones and his love for agriculture. While Arturo doesn't go into great detail about his personal life, he has vowed to write more in the future, but for now, he wants everyone to know about his long-time love for agriculture and coffee. 
At the end of Arturo's blog, I have done my best to translate the words he has written, so everyone may understand. While my Spanish will never be perfect, I am always willing to try my best, and my best is what you got here!
Lastly, I know you will wonder why Arturo's portion is in all caps - well, that's the only way he wants to type!
I hope you enjoy!
__________________________________________________
UNA  HISTORIA.

HACE  MAS DE  13 LUSTROS , EN  LA CABECERA CANTONAL   DE PIÑAS, LA SRA ROSITA  AMELIA ROMERO DE PEÑARRETA  A ESO DE LA 1 DE LA TARDE,  ACUDE AL CONSULTORIO MEDICO DE DR.  LUIS MOSCOSO MOLINA, CON DOLORES DE PARTO  Y QUE LUEGO DE HABER SIDO ATENDIDA POR EL ANTES  MENCIONADO DR, A LAS 15 H 30 MINUTOS NACE UN  BEBE , QUE LUEGO DE HABERLE PRODIGADO LAS ATENCIONES Y  REVISIONES NECESARIAS Y ENCONTRANDOSE CON UN BUEN ESTADO  DE SALUD, FUE PESADO, HABIENDOCE REGISTRADO UN PESO DE 12 LIBRAS  4 ONZAS, EXPRESADO DICHO GALENO QUE ESTE NO ES UN MUCHACHO.. QUE  ES TORO.

SU  PRINER  INFANCIA SE  DESARROLLO DE  FORMA NORMAL Y  LUEGO DE HABER CUMPLIDO  5 AÑOS DE EDAD INGRESO A  LA ECUELA " FEDERICO GONZALES   SUAREZ " DE LA CIUDAD DE PIÑAS  " ORQUIDEA DE LOS ANDES, TRANSCURRIDA  LA ETAPA ESCOLAR, FUI ENVIADO AL SEMINARIO  " SAN ALFONSO " REGENTADO POR LA COMUNIDAD  "REDENTORISTA " EL MISMO QUE ESTABA UBICADO EL  LA CIUDADELA FICOA DE LA CUIDAD DE AMBATO, PROVINCIA  DE TUNGURAHUA, QUE LUEGO DE COMPROBARCE QUE NO TENIA  VOCASION SACERDOTAL, AL TERMINAL EL TERCER AÑO SE ME ENTREGARON LOS  PAPELES RESPECTIVOS PARA QUE ME MATRICULACE EN OTRO COLEGIO. PUES MI  PADRE, EL PROFESOR VICTOR ARTURO PEÑARRETA ALDEAN, DECIDIO MATRICULAME  EN EL COLEGIO TECNICO AGROPECUARIO " DANIEN ALVAREZ BURNEO " DE LA CIUDAD  DE LOJA.

ALLA  POR EL   AÑO DE 1.964    MI PADRE TRAJO DESDE  COLOMBIA , 20 LIBRAS DE  SEMILLA DE CAFÉ VARIEDAD CATURRA, LA  MISMA QUE FUE PUESTA A GERMINAR EN PLATABANDAS  HECHAS EN LOS TERRENOS JUNTO A LA CASA DE MIS  PADRES EN LA ACTUAL CIUDADELA " LA SUSAYA EN LA CIUDAD DE  PIÑAS.". MI PADRE TRABAJABA EN LA PAGADURIA DEL BATALLON " B I  27 IMBAURA " DE LA CIUDAD DE SANTA ROSA DE LA PROVINCIA DE EL  ORO , DE LUNES A DOMINGO , PUES TODO EL TIEMPO QUE TENIA DISPONIBLE ME  HICE CARGO DEL ALMACIGO DE CAFÉ Y EL LO ATENDIA SABADOS Y DOMINGOS, DESDE  ESOS AÑOS HE REALIZADO ACTIVIDADES EN EL CAFÉ.

LUEGO  DE HABERME  GRADUADO EN 1.971 ,  COMO BACHILLER TECNICO  AGROPECUARIO EN EL INSTITUTO  TECNICO " DAB " DE LA CUIDAD DE  LOJA. ME MATRICULE EN LA UNIVERSIDAD  NACIONAL DE LOJA PARA ESTUDIAR CIENCIAS  FORESTALES PERO LA DICTADURA DE ESE TIEMPO    CERRO LA UNIVERSIDAD, LOQUE ME TRASLADE A LA CIUDAD  DE QUININDE EN LA PROVINCIA DE ESMERALDAS, EN DONDE  EMPECE A TARBAJAR EN LA HACIENDA EL 200 DE LA COMPAÑÍA   TATIANA SA., EN EL DEPARTAMENTO DE ENTOMOLOGIA. HASTA QUE EN  EL MESDE SERPTIEMBRE DE 1.973 INGRESE COMO BECARIO PARA PERITAJE  FORESTAL DE LA COMISION MIXTA ECUATORIANA - PERUANA Y POR ENDE PASE A   SER PARTE DE LA SUBCOMISION ECUATORIANA , DEL MISMO QUE FUI FAVORECIDO COMO  VIVERISTA EN LA CIUDAD DE PORTOVELO, DONDE LOEGO DE VARIAS GESTIONES CONSEGUIMOS  UN TERRENO EN EL SITIO PUENTE NEGRO PARA IMPLEMENTAR UN PRIMER VIVERO FORESTAL,  EL MISMO QUE SE INAUGURO EN EL MES DE OCTUBRE DE 1.974 BAJO LA DIRECCION GENERAL    DEL ING. LUIS CARRRERA DE LA TORRE CON SEDE EN QUITO.

EN  1.976  SE INICIARON LOS  TRABAJOS PARA REALIZAR  UN VIVERO DE MAYOR PRODUCCION DE  PLANTAS EN EL SITIO EL SALADO DEL  CANTON PORTOVELO , EN CUYA EJECUCION FORME PARTE  ACTIVA Y DIRECTA, ASI COMO TANBIEN EN TODAS LAS  LABORES FORESTALES QUE SE REALIZARON EN LA HACIENDA   EL TABLON DE PROPIEDAD DE LA COMPAÑÍA MINERA " CIMA " HASTA  QUE EL 01 DE JULIO 1.980, PASE A SER PARTE DEL COLEGIO NACIONAL  TECNICO 26 DE NOCIEMBRE DE LA CIUDAD DE ZARUMA, COMO PROFESOR DE ESPECIALIDAD  AGRICOLA, EL DONDE TENGO EL GUSTO HABER SERVIDO HASTA JUNIO DE 1990 , CON MAGNIFICOS  RESULTADOS. HABIENDO CONSEGUIDO LA DONACION DEL TERRENO PARA QUE FUNCIONE LA GRANJA PARA  LAS PRACTICAS AGRICOLAS DE LOS ESTUDIANTES DE LA ESPECIALIDAD AGROCOLA DEL ANTES MENCIONADO  COLEGIO DE ZARUMA..

EL  01 DE  JULIO DE 1.990  PASE A SER PARTE DEL  BANCO ECUATORIANO DE LA  VIVIENDA AGENCIA ZARUMA EN  CALIDAD DE RECIBIDOR PAGADOR  HASTA EL 30 DE SEPTIEMBRE DEL 2.000   EN QUE POR DECISIÓN DEL MINISTERIO DE  VIVIENDA CERRARON LA AGENCIADEL BANCO DE LA  V IVIENDA AGENCIA ZARUMA. POR LO QUE NOS COMPRARON  LA RENUNCIA.
AL  MES SIGUIETE, OCTUBRE, PRESENTE  LA SOLICITUD PARA ACOGERME A LA  JUBILACION, LA MISMA QUE FUE ACEPTADA  Y APROBADA EN NOVIEMBRE DEL 2.000, UNA VEZ YA JUBILADO ME HE DEDICAD0 A REALIZAR NUMEROSAS ACTIVIDADES TECNICA AGRICOLAS EN DIFERENTES ZONAS DE MI ECUADOR, ENTRE ELLAS LAS SIGUIENTES ME TRASLADE  A VIVIR SANTO DOMIMGO  DE LOS TSACHILAS, EN DONDE  COMPRE UN TERRENO AGRICOLA DE  4,5 HECTAREAS, EL MISMO QUE FUE CULTIVADO  CON PIMIENTA NEGRA , HABIENDO OBTENIDO MAGNIFICOS  RESULTADOS DE PRODUCCION DE PLANTULAS PARA REPRODUCCION  Y EN PRODUCCION DE  GRANO DE PIMIENTA
CON LAS PLANTULAS  TUBE LA OPORTUNIDAD DE REALIZAR CULIVOS  DE MUCHAS HECTARES DE PIMIENTA LA ZONA DE  SANTO DOMINGO Y CANTONES ALEDAÑOS PARA MUCHOS  PROPIETARIOS DE FINCAS .

DESAFORTUNADAMENTE  SE TUBO QUE VENDER LA  FINCA POR QUE LA EXPORTACION  DE PIMIENTA SE SUSPENDIO, BAJANDO  EL PRECIO DE LA PIMIENTA MUY SIGNIFICATIVAMENTE  DE $ 220,oo a $ 45,oo C/ QUINTAL, POR LO QUE DECIDI   RETORNAR A ZARUMA, EN DONDE INMENDIATAMENTE FUI CONTRATADO  PARA TRABAJAR COMO PROMOTOR CAFETALERO DEL CONSEJO NACIONAL CAFETALERO,  TRABAJO QUE LO REALICE HASTA DICIEMBRE DEL 2.013, YA QUE POR DECRETO MINISTERIAL  SE ELIMINO EL COFENAC.
DE  ENERO  A MAYO   DEL 2.014 . ESTUBE  VACANTE INGRESANDO DESDE  EL 01 DE JUNIO DEL 2.014   COMO JEFE DEL PROYECTO CAFÉ  DE MUNICIPIO DE ZARUMA, PRESIDIDO  POR EL ING. JHANSY LOPEZ JUMBO, EN DONDE  LABORO HASTA LA PRESENTE FECHA.

EN  EL MES  DE MAYO DEL  2.016 LLEGO UN  GRUPO DE ESTUDIANTES  DE LA UNIVERSIDAD DE   MERCER USA, PARA REALIZAR DIFERENTES ACTIVIDADES  EN LA ZONA Y ENTRE ELLAS ERA NOCER SOBRE EL CULTIVO  DE CAFÉ EN LA ZONA, PUES ALLI SE ENCONTRABA S H A N E  B U E R S T E R , UN ESTUDIANTE DE ECONOMIA QUE YA TENIA CONOCIMIENTOS  BASICOS DE ESPAÑOL , PERO UN FANATICO CAFEINOMANO, PUES SHANE Y YO HICIMOS  MUCHA AMISTAD , TAL ES ASI QUE SIEMPRE ESTABA JUNTO A MI , CON MUCHAS PREGUNTAS  SOBRE EL CAFÉ.

UNA  DE LAS  FRACES QUE  RECUERDO ERA   DE QUE DESPUES   DE UN AÑO CREARIA   UNA COMPAÑÍA PARA LLEVAR  CAFÉ DE ZASRUMA A SU PAIS.  Y ASI SUCEDIÓ QUE EN MAYO DEL  2017 , RETORNO CON UN NUEVO GRUPO  DE MERCER UNIVERCITY PERO YA CON UN CAPITAL  LISTO PARA COMPRAR CAFÉ PERO YA SE HOSPEDO EN  MI CASA PARA PODER COORDINAL LAS ACCIONES DE COMPRA  DEL CAFÉ, Y EN EL MES DE JUNIO DE ESE AÑO LAS  PRIMERAS 4000 LIBRAS DE CAFÉ VIA AEREA VOLAVAN A MIAMI  DANDO INICIO A Z BEANS COFFEE, QUE SIN DUDA ALGUNA CRESERA  MUCHO POR LA DEDICACION Y EMPEÑO QUE LE PONE EL GERENTE DE LA  MISMA.

POSTERIORMENTE, PARA  JUNIO DEL 2.018 NUEVAMENTE  RETORNO POR MAS CAFÉ PERO  ESTA VEZ PARA QUE EL CAFÉ SEA  ENVIADO EN UN CONTENEDOR USANDO LA VIA  MARITIMA HACIA LOS ESTADOS UNIDOS.
- Arturo
________________________________________________

The Story of Angel Arturo Penarreta Romero

More than 65 years ago, in Pinas, Ecuador, Mrs. Rosita Amelia Romero Penarreta went to Dr. Luis Moscow Molina's office at 1 in the afternoon with labor pains. Fifteen hours and thirty minutes later, a baby was born. After all necessary treatments were complete, the baby was weighed: it was heavy, 12 pounds and 4 ounces. The nurse said, "This is not a boy… This is a bull."

My early childhood was normal. At 5 years of age, I began school at Federico Gonzalez Suarez in the city of Pinas, Ecuador - "The Flower of the Andes." Afterwards, I was sent to the seminary school of 'San Alfonso' in Ambato, Ecuador. However, after seeing that I had no priestly vocation, I was given paper that asked me to transfer to another school. So, my father, Professor Victor Arturo Penarreta Aldean, decided to enroll me at the agricultural technical school, Danien Alvarez Burneo, in the city of Loja.  

In 1964, my father brought 20 pounds of caturra variety, green coffee seeds from Colombia. These seeds were planted next to my parent's house in Pinas. My father worked in the cashier's office for the battalion in Santa Rosa, Ecuador, a city an hour and a half south of Pinas. He worked from Monday to Sunday - every week. Thus, with the time I had available, I would be the one to take care of the coffee plants that my father and I had planted.

After graduating in 1971, with a bachelor's degree from the Technical Institute "DAB" in Loja, Ecuador, I joined the national university of Loja to study forestry, but the governmental dictatorship closed the university shortly thereafter. So, I transferred to the city of Quininde in Esmeraldas, Ecuador, where I worked for the Tatiana company in the entomology department. In September of 1973, I worked as an intern for the foresty department of the Ecuadorian - Peruvian commission and, eventually, the Ecuadorian sub-commission. I would eventually become a Greenhouse expert in the city of Portovelo, a city 20 miles away from Zaruma and Pinas, Ecuador. In October of 1974, as the greenhouse expert, we were granted land to implement our first large nursery under the guidance of the engineer, Louis Carrera.  

In 1976, we were granted permission to expand the nursery to produce a greater number of plants at the farm. I played a vital role in helping grow the nursery as well as the forestry sector at the farm, which was owned by a mining company, 'CIMA.'
On July 1, 1980, I began working as the professor of agriculture for the school 'Colegio Nacional Tecnico 26 de Noviembre' in Zaruma, Ecuador. I worked there until June of 1990. During my time, we had a great amount of success. During my time, I obtained a donation to start a farm for the students of the school, so we could practice the different topics that I was teaching, which was very beneficial.
On July 1, 1990, I started working for the Ecuadorian bank of the Zaruma housing agency as a bill collector. I worked there until September 30, 2000, when the housing agency closed the bank.

A month later, in October of 2000, I turned in my application for retirement. It was accepted and approved in November 2000. Since being retired, I have dedicated my time to numerous agricultural activities in different regions of Ecuador.

At one point, I lived in Santo Domingo, Ecuador, where I bought a 4.5 hectare farm. Previously, the farm was successfully cultivated with black pepper. I had hopes of growing the farm and the production of pepper all throughout the region. However, I was forced into selling the farm, as the exportation of pepper was suspended by the national government. As soon as pepper exporting was suspended, prices dropped from $220 per quintal (100 pound sack) to $45 per sack. Thus, I decided to return to Zaruma where I was immediately hired to work as the Promoter of the National Council of Coffee Farmers. I would work there until December of 2013, as the council was eliminated by the government.

I decided to try and enjoy retirement, thus I did from January to May of 2014, but I eventually found something else to do. On June 1, 2014, I became the head of the coffee project for the local government of Zaruma, Ecuador. I still work as the head of the coffee project today.

In May of 2016, a group of students from Mercer University came to perform different activities in the area, one of which concerned coffee. It was there I met Shane Buerster, an economics student, who already had a basic understanding of Spanish and an interest in the production of coffee. Shane and I formed a great friendship, as he was always with me, asking me questions about coffee.  

Early on, I remember talking about starting a coffee company to import coffee from Zaruma to The United States. So, it happened - In May of 2017, Shane returned with a new group of students from Mercer University, but this time, with capital to buy coffee. Shane stayed at my house and we coordinated the shipment of coffee. In June of that year, the first 4,000 pounds of coffee was imported by plane to Miami, starting Z Beans Coffee. Without a doubt, Z Beans will grow because of Shane's dedication and determination.

In June of 2018, Shane returned for more coffee, but this time for a larger order that would travel by boat.